Discover more from mostlyDad
A newsletter for guys who are many things but mostly dads.
Kitchen Review: Always Pan
Last Christmas, I asked for a new frying pan.  I didn't know what else to ask for.  I'm definitely one of those guys who is hard to shop for.  It's not my fault that new things don't interest me or that I'm more concerned with not having extra junk around the house or that my main hobby, writing, doesn't exactly require a lot of gear.  I usually ask for gift cards to lunch places for lack of anything else.  
But I also like to cook, and while I hate kitchen gadgets, I could admit the frying pan I used everyday, which we got as a wedding gift, was starting to get a little old.  It was top-of-the-line 13 years ago, but now my eggs would get ripped to shreds when I tried to flip them, and I'd have to scrape the residue off with sandpaper.  The toxic chemicals were probably seeping out of the teflon coating.  Every time I scrolled past one of those infomercials for those new pans that were green or copper or honeycombed or whatever, where the chef slides an egg around like it's an air hockey table, I'd wonder if they really worked that well, given the sad state of my own pan.  And for only $29.99 plus shipping and handling!  It was worth a shot.   So I casually mentioned to my wife that it might be a nice Christmas present to try one of those fancy new technological marvels.
Apparently, there was a slight miscommunication.  I guess my wife thought I deserved the nicest possible pan, because she loves me or something (i.e. she wanted it for herself), and knows how cheap I am.  So she told my mom to get me the Always Pan, a sleek, stylish, multi-purpose piece of very modern cookware.  Her friend swears by it, I'm told.  It was not what I was expecting.
On Christmas morning, I unwrapped the big box, puzzling apart the overly complicated, eco-friendly box layers, scanning the shiny, informational brochure (I wouldn't exactly call them instructions—it's a pan).  I don't think that when you buy one, they send a pan to some needy family in Africa, but that's the kind of vibe the whole package puts off.  It looked nice.  I said my thank you and put it aside.  I think I was a little afraid of it.
I didn't use it for a few days.  It was almost too nice.  Like fine china.  It's a display piece, not something you casually use to scramble a few eggs or brown some meat for tacos.  You have to be careful when washing it and avoid putting it on the drying rack, to avoid scratches.  Plus, it was a little bigger than my regular pans, and I'm a stickler about always using the smallest thing or least amount possible for a task, to avoid waste.  So it just sat there, looking nice.
My wife was very excited, though.  She doesn't do as much cooking, but she's a bit less neurotic about these things, and she'd been complaining about our old pans, too.  She used it several times while I was out of the house and raved about it.  Still, I was skeptical.  The pan was her idea, her reputation was on the line, so I couldn't exactly trust her judgment.  She was the smiling, credulous chef on the infomercial.  She sent me a picture of some eggs she supposedly made, but honestly, they looked fake.  Could the thing really be that much better than my old pan, which still produced cooked eggs, scratches and all.  It seemed like too much effort, too much risk, to be worth it for everyday things.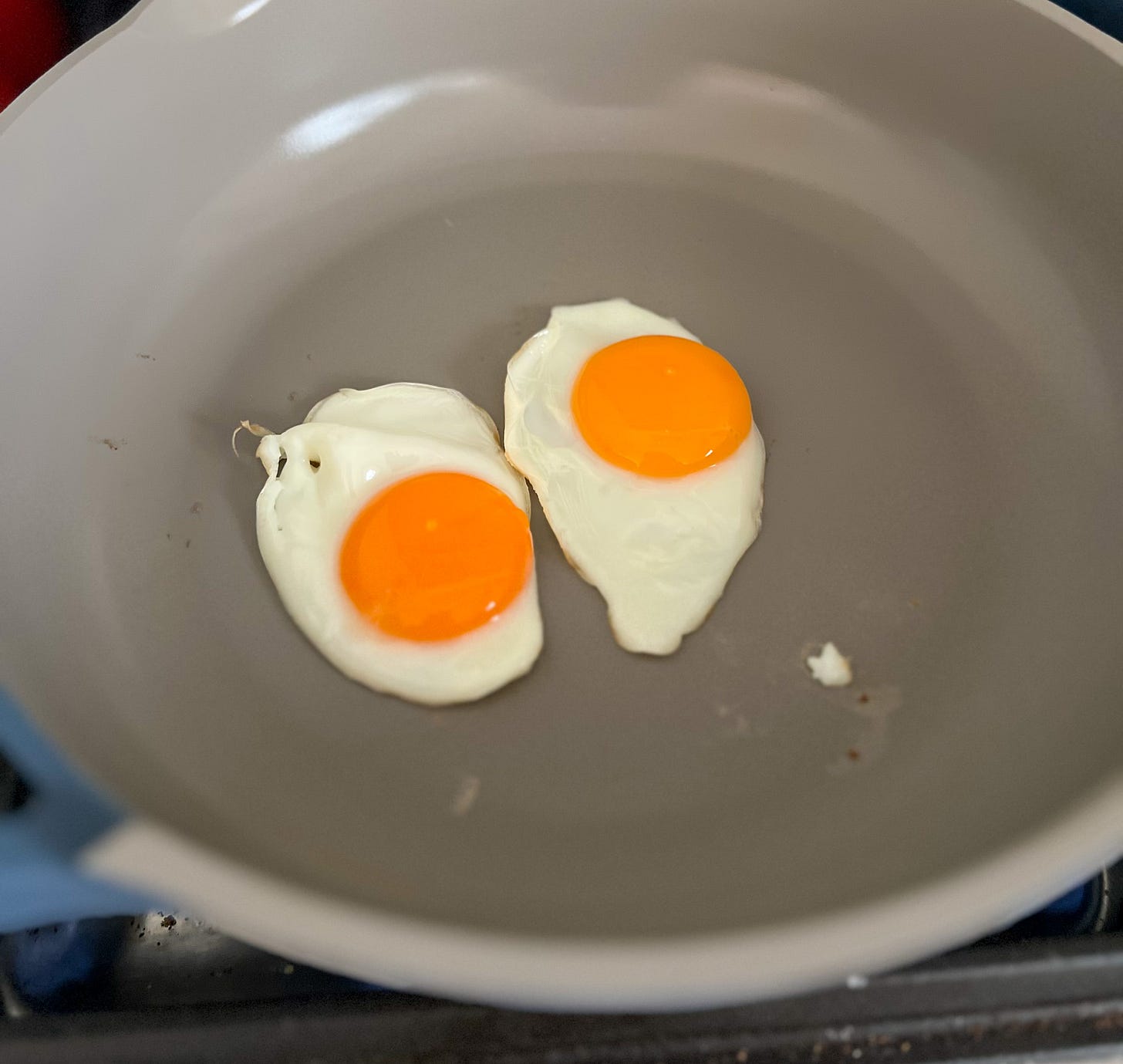 Then I tried it.  Yep, it works.  Very well.  Could you slide an egg around on it like a hockey puck?  Maybe, under the right circumstances.  But that's irrelevant if all you want to do is eat the eggs instead of play with them.  Even if some of the eggs get cooked on, which is inevitable, they peel right off without any effort, no soaking or scrubbing or grinding required.  It truly is amazing.  The same is true with a stir fry.  No matter how much you cook the onions and peppers, no matter how nasty the black scorch marks look, it comes clean with a little soap and water.  That saves a lot of time, even if you have to hand wash and hand dry it.
It also has high sides, so it holds more than you might think, enough to boil or fry if you need to, and it comes with a steaming basket, which I suppose might be helpful if you like steamed vegetables for some reason, and a wooden spatula that attaches to the handle, which is kinda handy if you don't mind only using one, wooden spatula for the rest of your life.  But the handle is solid and the whole thing is surprisingly light, making it easy to move around but also a little unstable if you're stirring something substantial in it.
Overall, I have to admit it's the best pan I've ever had.  That's not a very high bar, as I'd expect even the cheapest pans to have improved over the last decade, but its a substantial leap nonetheless.  It makes it easier to cook and to clean up after just about anything.  Is that worth the high price tag and the paranoia I'm going to ruin it with a single scratch?  Hard to say.  I probably wouldn't buy it for myself, but it makes a good Christmas gift.
Thanks for reading mostlyDad! Subscribe for free to receive new posts and support my work.